Whole earth sandwiches
Layered wholegrain hummus and beetroot sandwiches
A rich, dark wholegrain bread might be seen as a symbol of wholesome north European food traditions, and as such couldn't be omitted from the Discipline scenario. The revival of bread baking, yoghurt making, and the sharing of sourdough cultures is celebrated in this seemingly simple but actually quite elaborate dish. We combined the bread with three vegetarian pastes, one with legumes (chickpeas) and the other two with root vegetables (beetroot and celeriac). The resulting sandwich is a hearty fare that we imagined a Discipline mother would pack for her children's' lunch…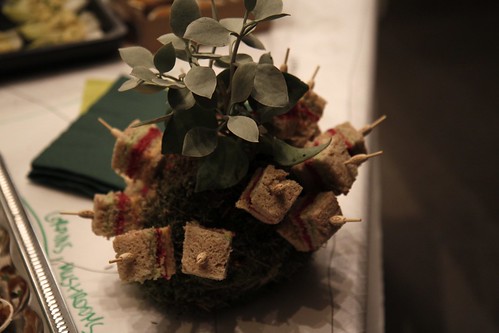 Ingredients
1 wholegrain bread, thinly sliced
Celeriac paste:
1 celeriac baked in salt crust, peeled and cut in pieces
1 full head of garlic baked in the salt crust, all the peel removed
3 apples baked in salt crust, all the peel and seeds removed
dash of cream
handful of hemp seeds
Beetroot paste:
5 beetroots baked in salt crust
150 ml sour cream
handful of pine nuts
pepper
Salt crust:
700 g flour
700 g salt
~350 ml water
Hummus:
250 g chickpeas soaked over night
2 coves of garlic
1 small onion
150 g of soft and creamy goat cheese
1 tsp of butter
1 tsp cumin powder
1 tsp of honey
1 bunch fresh coriander leaves
Preparation
Beetroot and celeriac pastes:
Bake beetroot, celeriac, apples and garlic cloves in the salt crust one day before. Preheat the oven to 220°C. Knead the salt, flour and water into a firm dough and roll it out. Pack the celeriac (unpeeled), beetroot, apples and garlic in the dough. Bake in the oven for 20 minutes, then reduce the temperature to 160°C and cook for another 35–45 minutes, depending on the size. Leave to cool down, then store in the fridge overnight.
The next day break the salt crust and peel the celeriac, beetroot, garlic and apples. Make two different pastes combining the ingredients (see above) in the electric mixer and mix until they become smooth and spreadable.
Hummus:
Blend all ingredients except butter in the mixer until it becomes a smooth paste. Add some water if the paste is too thick. Place the paste in a buttered ovenproof dish. Pour remaining butter on top. Bake the mixture for about 20–30 minutes in the oven at 180°C. Let it cool and reserve in the fridge.
Serving
Assemble multilayered sandwiches. Smear one layer with hummus, the second layer with beetroot paste, the third with celeriac paste. Cut off the crust. Place in the refrigerator for at least 1 hour. Cut the cooled sandwiches into small bite-sized squares. Serve on skewers and "plant" them in a small potplant or kokedama.
Sourcing
All ingredients came from the organic supermarket Bio Planet.
🍴
This recipe is part of 🍴Food Futures