Berryblinis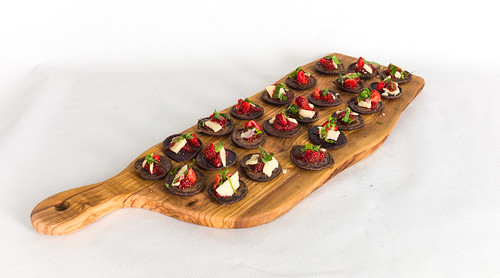 Strawberry coulis and pulp
Oat and purple corn blinis
Parmiggiano Reggiano
Fresh Basil leaves
Maltese Honey
Black pepper
On each blini layer small amounts of: strawberry pulp, cheese, honey (tiny drop), coulis, basil leaf, freeze-dried strawberry and pepper.
Oat and purple corn blinis
1 cup oat flour
3/4 cup purple corn flour
1/2 tsp sugar
1 tsp baking powder
pinch of salt
1 cup milk
1 Tsp coconut oil (+ some more for cooking)
2 eggs
Mix all dry ingredients in one pot, all wet ingredients in another. Add dry ingredients to the wet using a whisk or electric mixer.
Pre-heat a pancake (or a "poffertjes" pan if available) pan. Add a small amount of coconut oil (or spray another type of oil) and spread it well across the pan. Using a tablespoon scoop the blini mix into the pan. Depending on the size of the pan make more than one blini at a time. Cook on one side for about a minute, then turn on the other side. Repeat until all of the batter is used up.
Strawberry pulp and coulis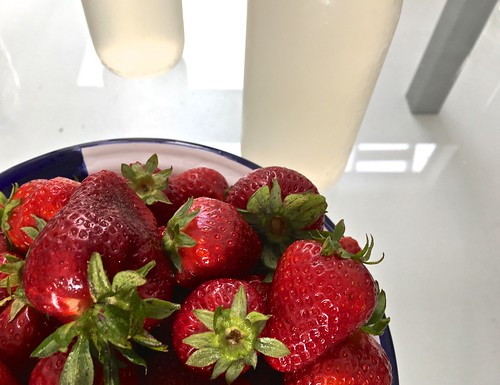 1 cup fresh strawberries
1 Tsp lemon juice
Coconut sugar to taste
Combine all ingredients and bring to boil over medium heat. Puree in a blender (or use a fork). Strain over a fine sieve. Keep the pulp separate from the strained coulis. Store in a sealed container in the fridge. Serve cold.
🍴
This recipe is part of 🍴Food Futures > Tasting Tomorrow