Sea Congee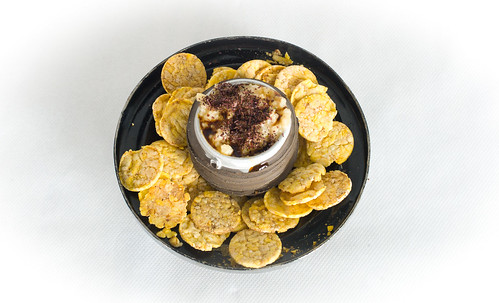 1/2 cup rice
4 cups water
Salt to taste
Dulse powder to taste
Shiso powder to taste
Tamari to taste
Sesame oil to taste
Bring rice to boil on medium heat. Then lower the heat and simmer for about 1h30mins, until all water is absorbed and rice grains fall apart to a porridge-like consistency. Add more water if needed. Let the congee cool down to warm/luke warm, then add other ingredients (dulse powder, shiso powder, tamari and sesame oil). The congee should have a strong umami flavour and be light brown in colour. Serve immediately with rice crackers and vegetable skins. Note: this dish does not store well. It becomes liquid and bitter after a night in the fridge.
Vegetable Skins
Vegetable peels (organic cucumber, beetroot, potato, carrot…)
Coconut oil (enough to deep-fry the peels)
Salt, pepper / chili to taste
Pat dry the vegetable peel using kitchen towels. Preheat the (deep) frying pan with coconut oil. Deep-fry peel from one vegetable at a time, for 10-20 seconds, so it becomes crispy but doesn't burn. Place on paper towels to drain. Add salt, pepper and chili to taste. Serve warm or cold.
🍴
This recipe is part of 🍴Food Futures > Tasting Tomorrow