Bread & butter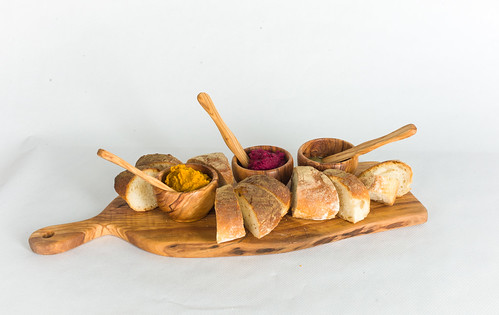 One Ftira (Maltese bread)
Pumpkin seed butter
2 Cups pumpkin seeds
2 tsp pumpkin oil (or any other local oil)
1/4 tsp salt
Toast the seeds in hot oven or dry pan (~10 mins). Cool the seeds for about 15 minutes. Grind the seeds in a food processor for a few minutes until they start to 'butterise'. Add oil a little bit at a time and continue mixing until the mixture is smooth (like tahini). At the end briefly mix in the salt (use the 'pulse' setting if available).
Carrot butter
2 large carrots
1 handful hazelnuts
1 handful rosemary
1 handful of tarragon
1 pinch botanico mix
1 splash coconut oil
1 splash olive oil
salt to taste
Dry roast hazelnuts. Add coconut oil and spices. Sautee briefly to release the aroma. Add chopped carrots and cover with water. Simmer until carrots are soft and water has evaporated. Leave to cool for 10-15 minutes. Add salt and olive oil. Puree in a blender. Serve warm or cold.
Beetroot butter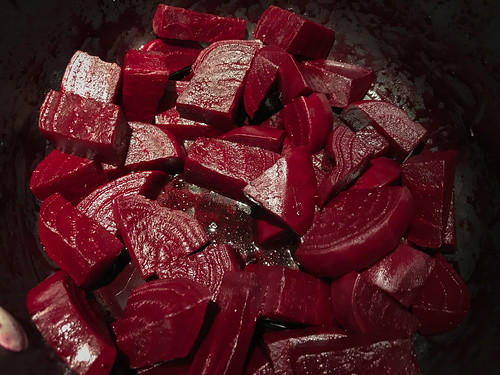 1 large beetroot (or two small ones)
~250cl red wine (we used Ulysses Shiraz from Marsovin)
1 kohlrabi (gidra)
1 tsp butter
pinch of salt
pinch of maha black aleppo pepper
1dl black tea (1 PG tips teabag)
1 tsp (cashew) nut butter
Cut beetroot in small chunks. Pour wine and add water to cover the beetroot. Boil until the beetroot is soft and until the liquid has reduced to a thick syrup. Chop kolhrabi in quite small. In a second pan melt the butter on low heat and add kohlrabi. Fry on medium heat until soft. Add beetroot, tea and spices. Cook until the liquid reduces to viscous syrup. Cool for a few minutes, add nut butter. Puree in a blender. Serve warm or cold.
🍴
This recipe is part of 🍴Food Futures > Tasting Tomorrow